About Online Dating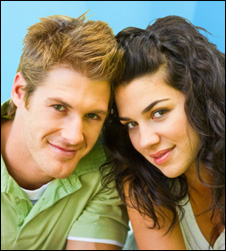 Chemistry is a premium offering from Match.com, designed especially for people who are looking for help in getting to know someone online so the first date feels like you're meeting for the second time.
What makes Chemistry different:
The Test: Chemistry's Personality Test and Profile are fun, engaging, and provide an in-depth look at who you are and what you want in a relationship. Take the test that over 8,000,000 people worldwide have already taken that will give you insight into yourself and your potential dates.
Be Introduced: We'll send you free personalized matches with the potential to trigger chemistry. Each day, you can discover who they are and decide if you'd like learn more about them.
A few words from Dr. Helen Fisher
Starting a relationship should be fun. It is good for the mind and body. And, fun is good for love. Did you know any kind of novel game is likely to drive up dopamine in the brain? It's the natural stimulant that can make you more susceptible to romance. So - we have decided to help you get in the mood with a few chemistry starters.
In the beginning of a relationship, you know almost nothing about each other. Which means, you tend to over-weigh the few morsels of information you receive. As a result, the getting to know you process is full of breaking points. These little moments take on heavy (and unrealistic) meanings that can send you flying out the door - sometimes too quickly.
Now, thanks to these chemistry starters, you can meet new people in a fun and interesting way. All the while, picking up facts, ideas and points of view about one another that will strengthen your bond. It's our hope this will help you pole vault those early breaking points - guiding you successfully on your journey toward finding the one.
So, in the gaming spirit, I'd like to share my motto with you, "We're here. We're alive. Let's play."
Meet Personality Matches in Under 2 Minutes